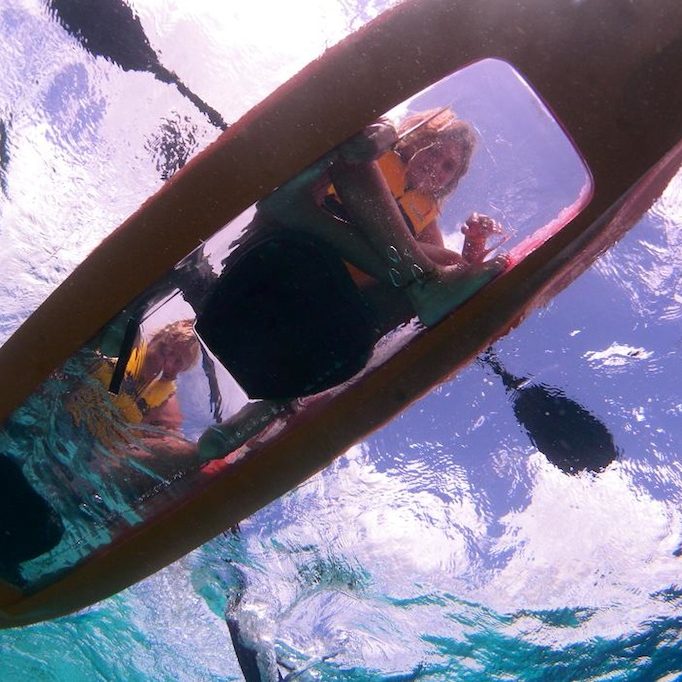 Mangrove Kayak & Snorkel Tour
Your mangrove glass bottom kayak & snorkel tour begins at the lovely beach from Lac Cai. The Bonaire Mangrove reserve is located in Lac Bay National Park. Visitors can only enter the mangroves in the company of an experienced nature guide. Your stable, glass bottom sit-on-top kayak is equipped with a comfortable backrest seat, a waterproof bag for your personal belongings and, of course, paddles. Off you go, into the calm waters.
The glass bottom kayak provides an ideal mode of transport in this beautiful and tranquil environment, as you manoeuvre with ease through the mangrove shallows and tunnels.
Gliding by four different species of mangrove trees in crystal-clear waters, paddling past bird habitats and fish spawning areas, you'll learn of the relationship between the plants and the animals. The snorkel location offers a great variety of marine life and is considered by many a must-do while visiting Bonaire!
Experience the beauty above and below the water in our glass bottom kayaks. Explore the inlets and secret passageways of Lac Bay's mangrove forest and discover Bonaire's reef from your own personal window!
Prices
Price: US$55.00 with own transportation / US$65.00 incl. pick-up in between Hamlet Oasis and Delfins Resort
Duration: 2.5 hours
Departure: Lac Cai (transfer available for cruise ship passengers)
This Trip Includes
Snorkel, mask & drybag. All taxes are included. Marine park fee is not included, but available for purchase (cruise ship passengers are exempted from paying the marine park fee).